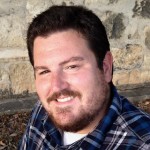 Wes Ferguson, a Texas-based journalist and author of The Blanco River (Texas A&M University Press, February 2017) and Running the River: Secrets of the Sabine (Texas A&M University Press, 2014), has been praised for his "sly humor and generous heart." He has written for several newspapers and magazines covering Bigfoot sightings, business and environmental issues, and backyard wrestling. He also briefly taught snow skiing in Australia. A graduate of the University of Texas at Austin, where he worked for The Daily Texan, Ferguson grew up in the Piney Woods community of Liberty City, outside Kilgore, and he got his start at The Flare, the student newspaper of Kilgore College. Ferguson's groundbreaking profile of a miniature horse farm was chosen by the National Newspaper Association as the top business feature of 2014. He is currently a freelance writer for Texas Monthly and is working on a book about the Blanco River.
Wimberley Storm Warning
Texas Monthly, May 2016: Decades ago, officials predicted Hays County would be hit by a devastating flood. Why didn't anyone listen?
Running the River (first chapter)
Texas A&M University Press, spring 2014: A man shot at us our first day on the river. Of course he did. You expect that sort of thing to happen on the Sabine.
'I probably would have died with them'
Longview News-Journal, 2005: Two sisters-in-law slipped into ponchos on Wednesday morning and waded through the ashes of a small frame home in Kilgore.
Why San Marcos loved Rob Robinson
Bobcat Magazine, fall 2012: When he died in the spring, at age 59, the body of downtown shopkeeper Rob Robinson was transported to a laboratory in Lockhart so a medical examiner could determine his cause of death.
The ghost hunters
Longview News-Journal, 2009: There will be tears tonight. There will be voices in the cemetery — a child's laughter, a whispered threat. On a cool, damp night in Longview, paranormal investigator Misty Richardson says she will not fear the spirits whom she will encounter during research of a local burial ground.
One night in a homeless camp
Longview News-Journal, 2009: Two figures darted through rush-hour traffic in the drizzle of a rainy April evening in Longview. With unwashed T-shirts clinging to their backs, they flagged down wary drivers who were attempting to exit a grocery store parking lot, not far from downtown.
Sassman's last stand
Hays Free Press, 2011: A confrontation between neighbors. Criminal charges and disappearing evidence. A road project in Uhland is the latest fuel for this small-town feud.
Longview Transit riders as varied as the routes
Longview News-Journal, 2009: You could write a book about the characters who ride Longview's public bus routes. Just ask Greg Sambrano.
Desperate options
No air conditioning, rotting floors, sagging ceilings: This is how some Longview renters live.
Longview News-Journal, 2009: The winter chill was creeping into old Sam Harris' bones. To fight the draft, he nailed boards across the outside of his windows, and he stretched a wide, blue tarp across an exterior wall of his shotgun shack.
More stuff
Death Row: 'I was a bad guy. I thought I was a gangster'
Area schools' wealth gap widening
Despite 30 years of losses, Sabine stays optimistic
Some area towns put lots of cash in, get little out