Here's where I tell you how amazing I am.
Steve Davis, curator of the Southwestern Writers Collection at The Wittliff Collections in San Marcos, has called me "one of the most talented emerging writers in Texas."
Beloved authors Stephen Harrigan and Joe R. Lansdale both praised my first book, Running the River: Secrets of the Sabine.
"The Sabine River has been like an artery to my heart for many years," Lansdale said, "and I felt I knew it, but Wes Ferguson's new book, which compares favorably to John Graves's Goodbye to a River, is a shining example of travelogue, history, and a fine piece of Americana, and it taught me I know far less about the Sabine than I thought. I adored this book. It's a good clean picture of a long, brown snake of a river. I heartily recommend it."
In my year as editor of the Hays Free Press, a weekly newspaper in the Austin suburbs, our staff won numerous awards from the Texas Press Association, including first place for general excellence among the state's medium-large weeklies. To my knowledge we had never won this award before. Our staff also took sweepstakes for the second time this century. On the circulation end, average single-copy print sales increased 23.2 percent, and subscriptions held steady after years of declines. Our web traffic also doubled.
* * * * *
INDIVIDUAL WRITING AWARDS
National Newspaper Association, 2014
Texas Press Association winners' circle, 2012:
Feature writing, first place (with Sean Kimmons)
News writing, third place (also with Sean Kimmons)
National Electric Cooperative Statewide Editors Association, 2011:
News feature, first place, for a story in Texas Co-op Power Magazine
Texas Associated Press Managing Editors awards, 2010:
Texas Associated Press Managing Editors awards, 2005:
* * * * *
ADDITIONAL PRAISE
From a Nieman Storyboard interview with Ben Montgomery, the guy behind Gangrey: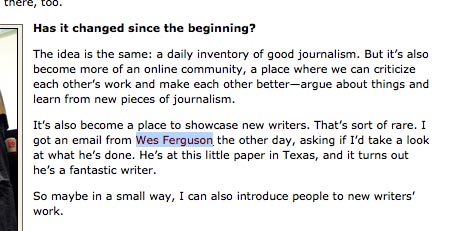 From the 2010 Star Reporter nomination, written by my beloved former editor:
"Wes Ferguson's abilities as a storyteller are seen throughout his Star Reporter entries. From a local baseball player trying to work his way back to the Majors to a night spent with some of the city's homeless population, Ferguson tackles each story with a reporter's edge and a novelist's sense of pacing.
"His keen eye for description and his sly sense of humor are throughout his entries, as is his ability to know when to get out of the way and let his subjects set the scene and talk about themselves and their situations."
From Jake Shaw, the managing editor of Dave Campbell's Texas Football:

Padding the resume with 2004-05 student awards …
Investigative Reporters and Editors
Society of Professional Journalists Mark of Excellence, Region 8
In-depth reporting, second place
Associated Collegiate Press